Information Centre > Articles And Essays >
Autism
[< Back] [Read Reviews] [Write A Review]
"What are Autism Spectrum Disorders?" NIMH (National Institute of Mental Health) | Article ID: #AS001
Autism Spectrum Disorders (Pervasive Developmental Disorders)
What are Autism Spectrum Disorders?
Autism Spectrum Disorders (ASD), also known as Pervasive Developmental Disorders (PDDs), cause severe and pervasive impairment in thinking, feeling, language, and the ability to relate to others. These disorders are usually first diagnosed in early childhood and range from a severe form, called autistic disorder, through pervasive development disorder not otherwise specified (PDD-NOS), to a much milder form, Asperger syndrome. They also include two rare disorders, Rett syndrome and childhood disintegrative disorder.
What Are the Autism Spectrum Disorders?
Signs & Symptoms
Parents are usually the first to notice unusual behaviors in their child. In some cases, the baby seemed "different" from birth, unresponsive to people or focusing intently on one item for long periods of time. The first signs of an autism spectrum disorder can also appear in children who had been developing normally. When an affectionate, babbling toddler suddenly becomes silent, withdrawn, self-abusive, or indifferent to social overtures, something is wrong.
Possible Indicators of Autism Spectrum Disorders
Does not babble, point, or make meaningful gestures by 1 year of age

Does not speak one word by 16 months

Does not combine two words by 2 years

Does not respond to name

Loses language or social skills
Some Other Indicators
Poor eye contact

Doesn't seem to know how to play with toys

Excessively lines up toys or other objects

Is attached to one particular toy or object

Doesn't smile

At times seems to be hearing impaired
Social Symptoms
Communication Difficulties
Repetitive Behaviors
Problems That May Accompany ASD
The Diagnosis of Autism Spectrum Disorders
Screening
Comprehensive Diagnostic Evaluation
Available Aids
Treatment
There is no single best treatment package for all children with ASD. Decisions about the best treatment, or combination of treatments, should be made by the parents with the assistance of a trusted expert diagnostic team.
Treatment Options
Will the treatment result in harm to my child?

How will failure of the treatment affect my child and family?

Has the treatment been validated scientifically?

Are there assessment procedures specified?

How will the treatment be integrated into my child's current program? Do not become so infatuated with a given treatment that functional curriculum, vocational life, and social skills are ignored.
How successful has the program been for other children?

How many children have gone on to placement in a regular school and how have they performed?

Do staff members have training and experience in working with children and adolescents with autism?

How are activities planned and organized?

Are there predictable daily schedules and routines?

How much individual attention will my child receive?

How is progress measured? Will my child's behavior be closely observed and recorded?

Will my child be given tasks and rewards that are personally motivating?

Is the environment designed to minimize distractions?

Will the program prepare me to continue the therapy at home?

What is the cost, time commitment, and location of the program?
Dietary and Other Interventions
Medications Used in Treatment
Adults with an Autism Spectrum Disorder
Living Arrangements for the Adult with an Autism Spectrum Disorder
Research into Causes and Treatment of Autism Spectrum Disorders
Research on the Biologic Basis of ASD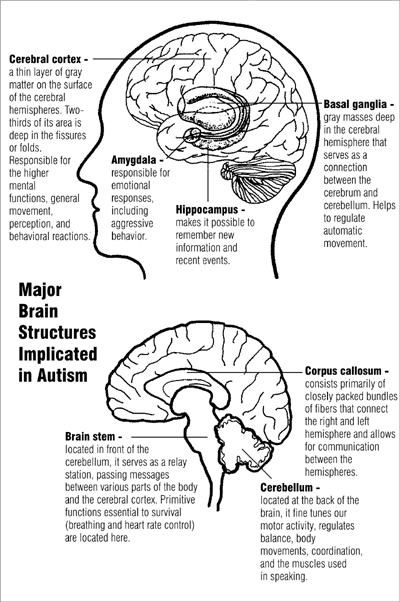 The Children's Health Act of 2000—What It Means to Autism Research
University of North Carolina, Chapel Hill

Yale University, Connecticut

University of Washington, Seattle

University of California, Los Angeles

Mount Sinai Medical School, New York

Kennedy Krieger Institute, Maryland

Boston University, Massachusetts

University of Rochester, New York
Boston University, Massachusetts

University of California, Davis

University of California, Irvine

University of California, Los Angeles

Yale University, Connecticut

University of Washington, Seattle

University of Rochester, New York

University of Texas, Houston

University of Pittsburgh, Pennsylvania

University of Utah, Salt Lake City
Center for Childhood Neurotoxicology and Assessment, University of Medicine & Dentistry, New Jersey

The Center for the Study of Environmental Factors in the Etiology of Autism, University of California, Davis
References
---
With thanks to the National Institute of Mental Health for allowing the publication of this article.
[< Back] [Read Reviews] [Write A Review]